How do I get an educational assessment?
An appointment can be arranged which includes an initial consultation (50mins) with parent(s). From this appointment, your psychologist can arrange dates for the assessment and organise the necessary details for background information. Book Below
What is an educational assessment?
An educational assessment assesses IQ (Intelligence Quotient), or cognitive ability of a person. It assesses the different strengths and weaknesses of your child's intellectual functioning. This is often used when there are suspected learning difficulties such as dyslexia, dysgraphia, dyscalculia, or ADHD; or a learning disability which may hinder understanding new or complex information.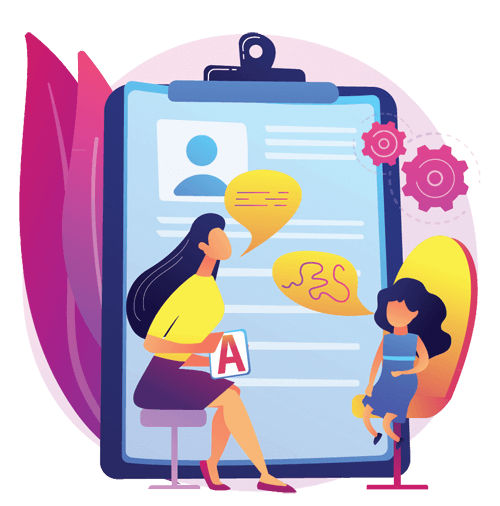 When should I get an educational assessment?
The earlier the better as this will allow supports to be put in place if required so that your child can understand and advance in their curriculum. Concerns are often brought to the clinic by a parent when the teacher has reported an increased awareness of difficulties as the child takes part in their classes. It is also important to know that educational assessments last for 2 years. It would be important to have a report ready in advance, and within date, of applying to secondary school in order to prepare for any necessary supports your child would benefit from.
What is included in an educational assessment?
An assessment will usually include background information from the parent(s), school, and child, as well as the psychometric assessment itself. A report of the results, with a list of resources and recommendations follow. Recommendations that may be included is Occupational Therapy, Speech & Language Therapy, or a brief Educational Training Program.
How long does an educational assessment take?
An assessment may take up to 3 hours. There are a variety of psychometric tests that are completed with the child. Background information is collected in advance of this assessment in an initial consultation. A report is then sent several weeks after calculations and recommendations have been finalised.
How do I know if my child needs an Educational Psychological Assessment?
Sometimes an educational assessment is needed if your child is finding school difficult. This type of assessment can help access further supports based on your child's needs. In primary school educational assessments can benefit teachers and assistants, while also providing the child with further resources such as assistive technology to manage well in school. 
We offer 1:1 appointments for Educational Psychological Assessments in Dublin, Cork or Galway.
If you would like to make an appointment with one of our Psychologists simply fill in the form below and we will select the best Psychologist from our team to match your needs.
You will then receive an email from our team to arrange your appointment.